About Us
Jannah's Kitchen is a Indian takeaway in Wythenshawe. Why don't you try our Naaga or Balti Murghi Skardu?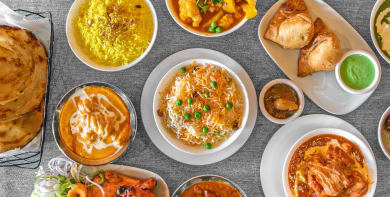 Reviews
392 reviews
Jessica
"Always delicious!!"
08/08/2020
Ms
"Superb again - highly recommend"
02/08/2020
Michael
"This is the 3rd meal we gave ordered,food and delivery excellent"
02/08/2020
karen
"Amazing food,best in wythenshawe.Hot,fresh and tasty.The lamb chops are out of this world."
02/08/2020
Menu
Chilli Garlic Chicken Puri
£3.50
Chicken Tikka Chat Massala Puri
£3.50
Jannah`s Special Starter
Consisting of shami kebab, sheek kebab, onion bhaji, samosa & chicken pakora
£5.90
Mixed Combo Starter For 2
Consisting of chicken tikka, lamb tikka, sheek kebab, hot & spicy wings, chicken pakora & onion bhaji
£7.90
Mixed Starter
Chicken tikka, vegetable pakora & chicken roll
£3.50
Stuffed Garlic Mushrooms
Mincemeat
£2.90
Stuffed Pepper
Mincemeat & veg
£3.90
Massala Tandoori King Prawn
£7.90
Mixed Shashlick
Chicken tikka & lamb tikka
£9.90
Sheek Kebab Main
Mix mincemeat
£6.90
Set Meal For 1
Starter:
Pappadom & chutney
Mix starter
Main meal:
Chicken tikka massala
Sundries:
Bombay aloo
Pilau rice
Nan
£12.90
Set Meal For 2
Starter:
Pappadoms & chutney
Chicken tikka
Onion bhaji
Main meal:
Chicken tikka massala
Lamb bhuna
Sundries:
Bombay aloo
Pilau rice
Nan
£20.90
Set Meal For 4
Starter:
Pappadoms & chutney
Meat samosa
Onion bhaji
Chicken tikka
Sheek kebab
Main meal:
Chicken tikka massala
Chicken karahi
Lamb balti
Chicken tikka shahee
Sundries:
Pilau rice
Mushroom rice
Nan
Garlic nan
Bombay aloo
Mushroom bhaji
£38.90
Jannah`s Special Biryani
Served with mossala sauce
£7.90
Balti Cham Cham
Pieces of chicken tikka breast cooked on a special balti sauce with red & green peppers & tomatoes
£7.50
Balti Exotica
Combination of chicken tikka, lamb tikka & king prawn, cooked in medium spiced balti sauce authentically prepared with fresh herbs & spices
£7.90
Balti Gorom Chicken Tikka
Chicken or lamb tikka cooked with green chilli & hot spices suitable for curry addicts
Hot
£7.50
Balti Gorom Lamb Tikka
Chicken or lamb tikka cooked with green chilli & hot spices suitable for curry addicts
Hot
£7.90
Balti Murghi Skardu
Pieces of chicken tikka in aromatic spices, cream, freshly chopped coriander leaves & various seeds
£7.50
Balti Nagri Chicken Tikka
Chicken tikka or lamb tikka cooked with Indian chilli pickle
Hot & spicy
£7.50
Balti Nagri Lamb Tikka
Chicken tikka or lamb tikka cooked with Indian chilli pickle
Hot & spicy
£7.90
Balti Peshwari Murgh
Diced chicken tikka cooked with spices in a buttered sauce
£7.50
Balti Saag Wala Chicken Tikka
Spinach cooked with chicken tikka or lamb tikka, fried garlic, herbs & balti sauce
£7.50
Balti Saag Wala Lamb Tikka
Spinach cooked with chicken tikka or lamb tikka, fried garlic, herbs & balti sauce
£7.90
Balti Zaffrani
Chicken tikka cooked with onions green peppers & balti flavoured sauce
£7.50
Maunchurai Chicken Tikka
Cooked with green chilli, mango chutney & well spiced with herbs
Fairly hot
£7.50
Maunchurai Lamb Tikka
Cooked with green chilli, mango chutney & well spiced with herbs
Fairly hot
£7.90
Makhani Chicken Tikka
Mildly spiced, cooked in a special sauce made with fragrant spices, butter & cream
Nut
£7.50
Makhani Lamb Tikka
Mildly spiced, cooked in a special sauce made with fragrant spices, butter & cream
Nut
£7.90
Jannah's Special
Asian style cooked with chicken tikka & lamb tikka
£7.20
Kitchen Special
Tandoori chicken cooked with minced meat, chopped mushroom & garnished with sheek kebab
£7.50
Chilli Garlic Massala Chicken Tikka
Tandoori baked boneless chicken or lamb tikka cooked with sliced garlic & green chillies
£7.50
Chilli Garlic Massala Lamb Tikka
Tandoori baked boneless chicken or lamb tikka cooked with sliced garlic & green chillies
£7.90
Chilli Massala Chicken Tikka
Chicken tikka or lamb tikka pieces cooked with special massala sauce with sliced fresh green chillies
£7.50
Chilli Massala Lamb Tikka
Chicken tikka or lamb tikka pieces cooked with special massala sauce with sliced fresh green chillies
£7.90
Indian Summer Lamb Tikka
A fairly hot dish of barbecue chicken or lamb tikka cooked with fresh herbs & spices with finely chopped green chilli & garnished with cheddar cheese
£7.90
Indian Summer Chicken Tikka
A fairly hot dish of barbecue chicken or lamb tikka cooked with fresh herbs & spices with finely chopped green chilli & garnished with cheddar cheese
£7.50
Chicken Tikka Shahee
A medium dish prepared with minced meat, chicken tikka, fresh herbs & spices
£7.90
Special Tandoori Mix Shashlick Karahi
Combination of chicken tikka, lamb tikka, sheek kebab, tandoori chicken & lamb chops cooked in medium spiced sauce with green peppers, onions & tomatoes authentically prepared with fresh herbs & spices
£12.90
South Indian Garlic Chilli Chicken
Barbecued chicken tikka & roasted whole garlic cooked with aromatic spices
£7.50
Tandoori Butter Special
Chicken tikka cooked in rich & creamy sauce blended with butter
Nut
£7.90
Passanda Tandoori Chicken
£7.30
Passanda Tandoori King Prawn
£7.90
Naaga Chicken
Prepared using hot spices with Bangladeshi naga pickle, fresh herbs & coriander
Hot
£6.90
Naaga Chicken Tikka
Prepared using hot spices with Bangladeshi naga pickle, fresh herbs & coriander
Hot
£7.20
Naaga Keema
Prepared using hot spices with Bangladeshi naga pickle, fresh herbs & coriander
Hot
£6.90
Naaga King Prawn
Prepared using hot spices with Bangladeshi naga pickle, fresh herbs & coriander
Hot
£7.90
Naaga Lamb
Prepared using hot spices with Bangladeshi naga pickle, fresh herbs & coriander
Hot
£7.50
Naaga Lamb Tikka
Prepared using hot spices with Bangladeshi naga pickle, fresh herbs & coriander
Hot
£7.90
Naaga Mushroom
Prepared using hot spices with Bangladeshi naga pickle, fresh herbs & coriander
Hot
£5.90
Naaga Prawn
Prepared using hot spices with Bangladeshi naga pickle, fresh herbs & coriander
Hot
£7.50
Naaga Special Mixed
Prepared using hot spices with Bangladeshi naga pickle, fresh herbs & coriander
Hot
£7.90
Naaga Tandoori Chicken
Prepared using hot spices with Bangladeshi naga pickle, fresh herbs & coriander
Hot
£7.20
Naaga Vegetable
Prepared using hot spices with Bangladeshi naga pickle, fresh herbs & coriander
Hot
£5.90
Korma Chicken
Delicate preparation of coconut, ground nuts to create a very rich creamy dish
Mild with nuts
£6.90
Korma Chicken Tikka
Delicate preparation of coconut, ground nuts to create a very rich creamy dish
Mild with nuts
£7.20
Korma Keema
Delicate preparation of coconut, ground nuts to create a very rich creamy dish
Mild with nuts
£6.90
Korma King Prawn
Delicate preparation of coconut, ground nuts to create a very rich creamy dish
Mild with nuts
£7.90
Korma Lamb
Delicate preparation of coconut, ground nuts to create a very rich creamy dish
Mild with nuts
£7.50
Korma Lamb Tikka
Delicate preparation of coconut, ground nuts to create a very rich creamy dish
Mild with nuts
£7.90
Korma Mushroom
Delicate preparation of coconut, ground nuts to create a very rich creamy dish
Mild with nuts
£5.90
Korma Prawn
Delicate preparation of coconut, ground nuts to create a very rich creamy dish
Mild with nuts
£7.50
Korma Special Mixed
Delicate preparation of coconut, ground nuts to create a very rich creamy dish
Mild with nuts
£7.90
Korma Tandoori Chicken
Delicate preparation of coconut, ground nuts to create a very rich creamy dish
Mild with nuts
£7.20
Korma Vegetable
Delicate preparation of coconut, ground nuts to create a very rich creamy dish
Mild with nuts
£5.90
Rogan Josh Chicken
Cooked with capsicum, tomatoes, onions, fresh herbs & spices
£6.90
Rogan Josh Chicken Tikka
Cooked with capsicum, tomatoes, onions, fresh herbs & spices
£7.20
Rogan Josh Keema
Cooked with capsicum, tomatoes, onions, fresh herbs & spices
£6.90
Rogan Josh King Prawn
Cooked with capsicum, tomatoes, onions, fresh herbs & spices
£7.90
Rogan Josh Lamb
Cooked with capsicum, tomatoes, onions, fresh herbs & spices
£7.50
Rogan Josh Lamb Tikka
Cooked with capsicum, tomatoes, onions, fresh herbs & spices
£7.90
Rogan Josh Mushroom
Cooked with capsicum, tomatoes, onions, fresh herbs & spices
£5.90
Rogan Josh Prawn
Cooked with capsicum, tomatoes, onions, fresh herbs & spices
£7.50
Rogan Josh Special Mixed
Cooked with capsicum, tomatoes, onions, fresh herbs & spices
£7.90
Rogan Josh Tandoori Chicken
Cooked with capsicum, tomatoes, onions, fresh herbs & spices
£7.20
Rogan Josh Vegetable
Cooked with capsicum, tomatoes, onions, fresh herbs & spices
£5.90
Saag Chicken
Richly spiced, cooked with garlic, ginger, tomato & fresh spinach
Rather dryish
£6.90
Saag Chicken Tikka
Richly spiced, cooked with garlic, ginger, tomato & fresh spinach
Rather dryish
£7.20
Saag Keema
Richly spiced, cooked with garlic, ginger, tomato & fresh spinach
Rather dryish
£6.90
Saag King Prawn
Richly spiced, cooked with garlic, ginger, tomato & fresh spinach
Rather dryish
£7.90
Saag Lamb
Richly spiced, cooked with garlic, ginger, tomato & fresh spinach
Rather dryish
£7.50
Saag Lamb Tikka
Richly spiced, cooked with garlic, ginger, tomato & fresh spinach
Rather dryish
£7.90
Saag Mushroom
Richly spiced, cooked with garlic, ginger, tomato & fresh spinach
Rather dryish
£5.90
Saag Prawn
Richly spiced, cooked with garlic, ginger, tomato & fresh spinach
Rather dryish
£7.50
Saag Special Mixed
Richly spiced, cooked with garlic, ginger, tomato & fresh spinach
Rather dryish
£7.90
Saag Tandoori Chicken
Richly spiced, cooked with garlic, ginger, tomato & fresh spinach
Rather dryish
£7.20
Saag Vegetable
Richly spiced, cooked with garlic, ginger, tomato & fresh spinach
Rather dryish
£5.90
Pathia Chicken
Combination of spices, tomatoes, onion cooked to a dish of medium strength, garnished with fresh coriander
Hot
Sweet & sour
£6.90
Pathia Chicken Tikka
Combination of spices, tomatoes, onion cooked to a dish of medium strength, garnished with fresh coriander
Hot
Sweet & sour
£7.20
Pathia Keema
Combination of spices, tomatoes, onion cooked to a dish of medium strength, garnished with fresh coriander
Hot
Sweet & sour
£6.90
Pathia King Prawn
Combination of spices, tomatoes, onion cooked to a dish of medium strength, garnished with fresh coriander
Hot
Sweet & sour
£7.90
Pathia Lamb
Combination of spices, tomatoes, onion cooked to a dish of medium strength, garnished with fresh coriander
Hot
Sweet & sour
£7.50
Pathia Lamb Tikka
Combination of spices, tomatoes, onion cooked to a dish of medium strength, garnished with fresh coriander
Hot
Sweet & sour
£7.90
Pathia Mushroom
Combination of spices, tomatoes, onion cooked to a dish of medium strength, garnished with fresh coriander
Hot
Sweet & sour
£5.90
Pathia Prawn
Combination of spices, tomatoes, onion cooked to a dish of medium strength, garnished with fresh coriander
Hot
Sweet & sour
£7.50
Pathia Special Mixed
Combination of spices, tomatoes, onion cooked to a dish of medium strength, garnished with fresh coriander
Hot
Sweet & sour
£7.90
Pathia Tandoori Chicken
Combination of spices, tomatoes, onion cooked to a dish of medium strength, garnished with fresh coriander
Hot
Sweet & sour
£7.20
Pathia Vegetable
Combination of spices, tomatoes, onion cooked to a dish of medium strength, garnished with fresh coriander
Hot
Sweet & sour
£5.90
Ginger Chicken
Fresh spices with ginger, onions, capsicum & tomato, garnished with chopped ginger to give it an unique taste
Hot
£6.90
Ginger Chicken Tikka
Fresh spices with ginger, onions, capsicum & tomato, garnished with chopped ginger to give it an unique taste
Hot
£7.20
Ginger Keema
Fresh spices with ginger, onions, capsicum & tomato, garnished with chopped ginger to give it an unique taste
Hot
£6.90
Ginger King Prawn
Fresh spices with ginger, onions, capsicum & tomato, garnished with chopped ginger to give it an unique taste
Hot
£7.90
Ginger Lamb
Fresh spices with ginger, onions, capsicum & tomato, garnished with chopped ginger to give it an unique taste
Hot
£7.50
Ginger Lamb Tikka
Fresh spices with ginger, onions, capsicum & tomato, garnished with chopped ginger to give it an unique taste
Hot
£7.90
Ginger Mushroom
Fresh spices with ginger, onions, capsicum & tomato, garnished with chopped ginger to give it an unique taste
Hot
£5.90
Ginger Prawn
Fresh spices with ginger, onions, capsicum & tomato, garnished with chopped ginger to give it an unique taste
Hot
£7.50
Ginger Special Mixed
Fresh spices with ginger, onions, capsicum & tomato, garnished with chopped ginger to give it an unique taste
Hot
£7.90
Ginger Tandoori Chicken
Fresh spices with ginger, onions, capsicum & tomato, garnished with chopped ginger to give it an unique taste
Hot
£7.20
Ginger Vegetable
Fresh spices with ginger, onions, capsicum & tomato, garnished with chopped ginger to give it an unique taste
Hot
£5.90
Garlic Chicken
Prepared with freshly chopped tomatoes, onions & garlic
£6.90
Garlic Chicken Tikka
Prepared with freshly chopped tomatoes, onions & garlic
£7.20
Garlic Keema
Prepared with freshly chopped tomatoes, onions & garlic
£6.90
Garlic King Prawn
Prepared with freshly chopped tomatoes, onions & garlic
£7.90
Garlic Lamb
Prepared with freshly chopped tomatoes, onions & garlic
£7.50
Garlic Lamb Tikka
Prepared with freshly chopped tomatoes, onions & garlic
£7.90
Garlic Mushroom
Prepared with freshly chopped tomatoes, onions & garlic
£5.90
Garlic Prawn
Prepared with freshly chopped tomatoes, onions & garlic
£7.50
Garlic Special Mixed
Prepared with freshly chopped tomatoes, onions & garlic
£7.90
Garlic Tandoori Chicken
Prepared with freshly chopped tomatoes, onions & garlic
£7.20
Garlic Vegetable
Prepared with freshly chopped tomatoes, onions & garlic
£5.90
Jalfrezi Chicken
This dish is prepared with fresh herbs, cooked with green chillies, onions & fresh capsicums, garnished with fresh coriander
Fairly hot
Hot
£6.90
Jalfrezi Chicken Tikka
This dish is prepared with fresh herbs, cooked with green chillies, onions & fresh capsicums, garnished with fresh coriander
Fairly hot
Hot
£7.20
Jalfrezi Keema
This dish is prepared with fresh herbs, cooked with green chillies, onions & fresh capsicums, garnished with fresh coriander
Fairly hot
Hot
£6.90
Jalfrezi King Prawn
This dish is prepared with fresh herbs, cooked with green chillies, onions & fresh capsicums, garnished with fresh coriander
Fairly hot
Hot
£7.90
Jalfrezi Lamb
This dish is prepared with fresh herbs, cooked with green chillies, onions & fresh capsicums, garnished with fresh coriander
Fairly hot
Hot
£7.50
Jalfrezi Lamb Tikka
This dish is prepared with fresh herbs, cooked with green chillies, onions & fresh capsicums, garnished with fresh coriander
Fairly hot
Hot
£7.90
Jalfrezi Mushroom
This dish is prepared with fresh herbs, cooked with green chillies, onions & fresh capsicums, garnished with fresh coriander
Fairly hot
Hot
£5.90
Jalfrezi Prawn
This dish is prepared with fresh herbs, cooked with green chillies, onions & fresh capsicums, garnished with fresh coriander
Fairly hot
Hot
£7.50
Jalfrezi Special Mixed
This dish is prepared with fresh herbs, cooked with green chillies, onions & fresh capsicums, garnished with fresh coriander
Fairly hot
Hot
£7.90
Jalfrezi Tandoori Chicken
This dish is prepared with fresh herbs, cooked with green chillies, onions & fresh capsicums, garnished with fresh coriander
Fairly hot
Hot
£7.20
Jalfrezi Vegetable
This dish is prepared with fresh herbs, cooked with green chillies, onions & fresh capsicums, garnished with fresh coriander
Fairly hot
Hot
£5.90
Karahi Chicken
Delicately spiced & cooked with peeled tomatoes, onions, capsicums & garnished with fresh coriander
Medium hot
£6.90
Karahi Chicken Tikka
Delicately spiced & cooked with peeled tomatoes, onions, capsicums & garnished with fresh coriander
Medium hot
£7.20
Karahi Keema
Delicately spiced & cooked with peeled tomatoes, onions, capsicums & garnished with fresh coriander
Medium hot
£6.90
Karahi King Prawn
Delicately spiced & cooked with peeled tomatoes, onions, capsicums & garnished with fresh coriander
Medium hot
£7.90
Karahi Lamb
Delicately spiced & cooked with peeled tomatoes, onions, capsicums & garnished with fresh coriander
Medium hot
£7.50
Karahi Lamb Tikka
Delicately spiced & cooked with peeled tomatoes, onions, capsicums & garnished with fresh coriander
Medium hot
£7.90
Karahi Mushroom
Delicately spiced & cooked with peeled tomatoes, onions, capsicums & garnished with fresh coriander
Medium hot
£5.90
Karahi Prawn
Delicately spiced & cooked with peeled tomatoes, onions, capsicums & garnished with fresh coriander
Medium hot
£7.50
Karahi Special Mixed
Delicately spiced & cooked with peeled tomatoes, onions, capsicums & garnished with fresh coriander
Medium hot
£7.90
Karahi Tandoori Chicken
Delicately spiced & cooked with peeled tomatoes, onions, capsicums & garnished with fresh coriander
Medium hot
£7.20
Karahi Vegetable
Delicately spiced & cooked with peeled tomatoes, onions, capsicums & garnished with fresh coriander
Medium hot
£5.90
Balti Chicken
Balti dishes are prepared with special balti sauce & fresh spices with garlic, ginger, onions, capsicum & tomatoes, garnished with coriander
£6.90
Balti Chicken Tikka
Balti dishes are prepared with special balti sauce & fresh spices with garlic, ginger, onions, capsicum & tomatoes, garnished with coriander
£7.20
Balti Keema
Balti dishes are prepared with special balti sauce & fresh spices with garlic, ginger, onions, capsicum & tomatoes, garnished with coriander
£6.90
Balti King Prawn
Balti dishes are prepared with special balti sauce & fresh spices with garlic, ginger, onions, capsicum & tomatoes, garnished with coriander
£7.90
Balti Lamb
Balti dishes are prepared with special balti sauce & fresh spices with garlic, ginger, onions, capsicum & tomatoes, garnished with coriander
£7.50
Balti Lamb Tikka
Balti dishes are prepared with special balti sauce & fresh spices with garlic, ginger, onions, capsicum & tomatoes, garnished with coriander
£7.90
Balti Mushroom
Balti dishes are prepared with special balti sauce & fresh spices with garlic, ginger, onions, capsicum & tomatoes, garnished with coriander
£5.90
Balti Prawn
Balti dishes are prepared with special balti sauce & fresh spices with garlic, ginger, onions, capsicum & tomatoes, garnished with coriander
£7.50
Balti Special Mixed
Balti dishes are prepared with special balti sauce & fresh spices with garlic, ginger, onions, capsicum & tomatoes, garnished with coriander
£7.90
Balti Tandoori Chicken
Balti dishes are prepared with special balti sauce & fresh spices with garlic, ginger, onions, capsicum & tomatoes, garnished with coriander
£7.20
Balti Vegetable
Balti dishes are prepared with special balti sauce & fresh spices with garlic, ginger, onions, capsicum & tomatoes, garnished with coriander
£5.90
Achari Chicken
Cooked in medium spices with a unique Bangladeshi mixed pickle
£6.90
Achari Chicken Tikka
Cooked in medium spices with a unique Bangladeshi mixed pickle
£7.20
Achari Keema
Cooked in medium spices with a unique Bangladeshi mixed pickle
£6.90
Achari King Prawn
Cooked in medium spices with a unique Bangladeshi mixed pickle
£7.90
Achari Lamb
Cooked in medium spices with a unique Bangladeshi mixed pickle
£7.50
Achari Lamb Tikka
Cooked in medium spices with a unique Bangladeshi mixed pickle
£7.90
Achari Mushroom
Cooked in medium spices with a unique Bangladeshi mixed pickle
£5.90
Achari Prawn
Cooked in medium spices with a unique Bangladeshi mixed pickle
£7.50
Achari Special Mixed
Cooked in medium spices with a unique Bangladeshi mixed pickle
£7.90
Achari Tandoori Chicken
Cooked in medium spices with a unique Bangladeshi mixed pickle
£7.20
Achari Vegetable
Cooked in medium spices with a unique Bangladeshi mixed pickle
£5.90
Bangalore Chicken
Similar to korma, but with added banana for a sweeter taste
Nut
£6.90
Bangalore Chicken Tikka
Similar to korma, but with added banana for a sweeter taste
Nut
£7.20
Bangalore Keema
Similar to korma, but with added banana for a sweeter taste
Nut
£6.90
Bangalore King Prawn
Similar to korma, but with added banana for a sweeter taste
Nut
£7.90
Bangalore Lamb
Similar to korma, but with added banana for a sweeter taste
Nut
£7.50
Bangalore Lamb Tikka
Similar to korma, but with added banana for a sweeter taste
Nut
£7.90
Bangalore Mushroom
Similar to korma, but with added banana for a sweeter taste
Nut
£5.90
Bangalore Prawn
Similar to korma, but with added banana for a sweeter taste
Nut
£7.50
Bangalore Special Mixed
Similar to korma, but with added banana for a sweeter taste
Nut
£7.90
Bangalore Tandoori Chicken
Similar to korma, but with added banana for a sweeter taste
Nut
£7.20
Bangalore Vegetable
Similar to korma, but with added banana for a sweeter taste
Nut
£5.90
Chicken Tikka Sandwich Kebab on Naan
£6.90
Lamb Tikka Sandwich Kebab on Naan
£7.90
Mixed Kebab Sandwich on Naan
£7.90
Seekh Kebab Sandwich on Naan
£6.90
Sheek Kabab & Donar on Nan
£7.90
Chicken Tikka & Donar on Nan
£6.90
Lamb Tikka & Donar on Nan
£7.90
Mix Rice
Chicken tikka, keema, egg
£3.50
Kulcha Nan
Mince, garlic, chilli & coriander
£3.50
Aloo Methi
Stir fried potatoes with spices & fenugreek
£2.90
Bombay Aloo
Spicy fried potatoes
£2.50
Cauliflower Bhaji
Cauliflower stir fried
£2.90
Chana Massala
Stir fried chickpeas with onion & spices
£2.90
Bhindi Bhaji
Bindi also know as okra or ladies fingers
£2.90
Other Curry Sauce Vindaloo
£2.90
Mushroom Bhaji
Button mushrooms stir fried
£2.90
Saag Aloo
Spicy potato & spinach
£2.90
Tarka Dhal
Lentils with fried onions & garlic
£2.90
Kids Meal 1
Chicken korma, basmati pilau rice, packet of crisp, Lolly & juice
£4.90
Kids Meal 2
Chicken popcorn & chips, packet of crisp, Lolly & juice
£4.90
Kids Meal 3
Chicken nuggets & chips, packet of crisp, Lolly & juice
£4.90
Seekh Kebab Starter
Mix mincemeat
£2.90
Tandoori Mixed Grill Starter
£5.90
Tandoori King Prawn Starter
£5.90
Vindaloo Tandoori Chicken
£7.20
Contact Us
Find Us
34 Portway, Wythenshawe, M221UB
We deliver to
M22, M23, M90, SK8